Your furry friend will be lounging in style soon.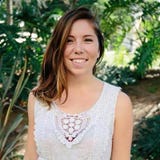 BY JAMIE BALLARD
Whether you're excitedly preparing for your new puppy or it's simply time to replace the ratty old bed your dog has been using for years, we've got one word for you: Amazon. The online retailer has so many amazing dog beds, from puppy bunk beds (yes, they're a thing!) to cushy memory foam loungers for pets who needs a little more support.

We've highlighted beds that are designed to be stylish and look good in any living space, no matter your personal interior design style. Including boho-inspired rattan beauties, as well as sleek modern dog couches, there's sure to be one on this list that you and your pet will both love. Many of these luxury dog beds are easy to assemble and have machine-washable covers—in case things get messy. As you're shopping, be sure to look at the measurements before ordering. Some beds are only designed to accommodate small dogs or cats, while others have space for larger ones.
Keep scrolling to see our list of the best dog beds on Amazon, which just might have you wishing they came in adult size.
A LUXURIOUS LOUNGER: FÜZI Elevated Dog Bed
This dog bed is thoughtfully designed with features like a removable machine-washable cover, soft faux fur lining, a sturdy metal frame, and extra-stuffed inserts to support your pet's head and neck. Plus, it comes in a wide range of sizes, including a large size that measures 40 inches across for bigger breeds.